Alternatives:
Vimeo
OneDrive:
[Medium 60Mb .mp4]
[Small 7Mb .wmv]
Outside Germany:
YouTube
reviews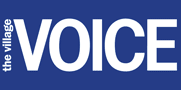 The Village Voice by Bruce Supree
Serious Talk – New York City … Darkly handsome, Viviani has the masculine power of the young Robert Mitchum, but he's hot, not cool. Joining Hartley for Serious Talk, he's slightly menacing, controlled, agressive — but unhurried. A '40s film noir, Mickey Spillane kind of guy — but he doesn't lay a hand on her. … Viviani's in formal pants, black suspenders, a sleeveless undershirt. He slowly raises his arms, folds them across his chest. He points his index finger, then with the other hand pushes softly in the opposite direction with measured force. Repeating gestures, speeding them up, adding more, he produces a steady flow of contradictory impulses, while playing off the waltz rhythms. He opens his hands with a kind of helpless strength, then draws them in to his chest and cringes. The accelerating repetition of impassioned gestures gradually builds as unbearable pressure of feeling in him.

The New York Times
by Jennifer Dunning
Blue Danube – New York City … Mr. Viviani, a relatively new choreographer, took simple themes and dealt with them with admirable simplicity … The quality of movement is most subtle and interesting in "Blue Danube," set to the Strauss waltz, its message is mystifying. Mr. Viviani and Cheryl Hartley were personable dancers.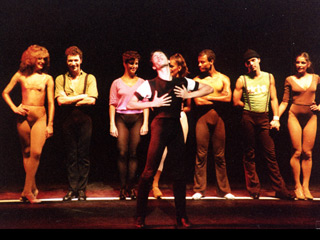 It was a singular sensation being touched by the line, as you can see in this picture. Ricardo Viviani playing Greg in 'A Chorus Line'. Some well known actors can seen in this picture. Can you name the people? 'ACL' in São Paulo * April 15th, 1983.
Ricardo Viviani and Elizabeth Zengara in a duet by Igal Perry (Peridance NYC)
..."Mr. Perry moves his 12 dancers about the tiny space impressively, giving them big jumps - crisply executed -and runs for a note of urgency." Jennifer Dunning ..."A delicate, flowing measure was peformed by Elizabeth Zengara, well-partnered by Ricardo Viviani"
In 1981 I got a scholarship to study at
The Jacob's Pillow Dance Festival and School
. Jacob's Pillow is a very special place. The school is a summer camp; the students live in cabins scattered around the woods of the Berkshire Mountains. The program includes an intensive dance education with 5 dance classes per day. The scholarship program also includes work on the many skills needed for running a dance performance: this way the students are also involved in the performances presented at the Dance Festival. "The Pillow" first introduced me to
Bessie Schönberg
, Liz Thompson, Manuel Alum,
Bill Irwin
, the Kathakali Dance of India and so many other people.
"Bessie Schönberg, who heads our choreography department was most impressed with Ricardo's sense of invention."

Liz Thompson, Artistic Director
Continue reading »