Musical in 2 Akten Musik von Frederick Loewe Buch von Alan Jay Lerner, nach Bernhard Shaws "Pygmalion" und dem Film von Gabriel Pascal, Deutsch von Robert Gilbert Premiere 27. Februar 2010 - Großes Haus Die Sage von Pygmalion, dessen Statue einer Traumfrau lebendig wurde, ist immer wieder ein Thema literarischer Werke gewesen. Die Musical-Version erweist sich als eine Gesellschaftskomödie voller Ironie und Hintersinn. "My Fair Lady" gilt seit seiner Uraufführung im März 1956 in New York als das klassische Musical schlechthin. Mit über 2.700 Vorstellungen am Broadway und Aufführungen in aller Welt gehört es immer noch mit seinen Evergreens wie "Mit ´nem kleenen Stückchen Glück", "Es grünt so grün", und "Ich hätt´ getanzt heut´ Nacht" zu den populärsten Beispielen seiner Gattung.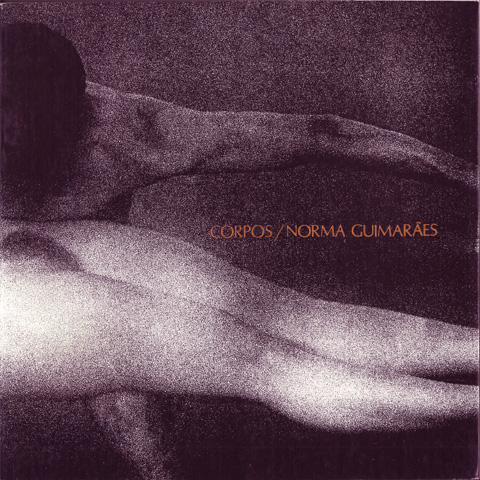 Corpos
ensaio fotográfico de Norma Guimarães
Apresentação de Gilberto Di Pierro
prefácio de Jacob Klintowitz
Massao Ono Editor 1987
Edição de 700 exemplares
Paperback circa 40 pages
Shop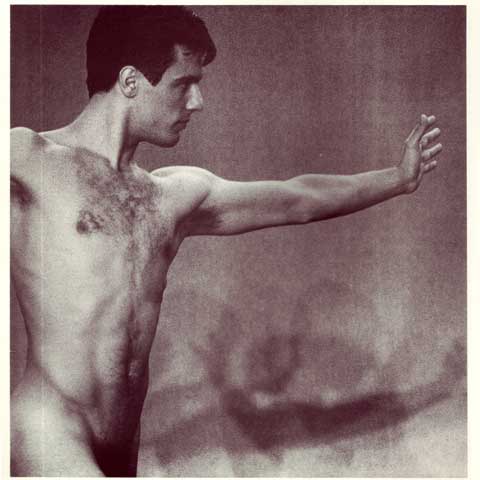 Luzes, ação, click. Arte e objetiva, arte-objetiva, click. Rostos, corpos, click. Sombras, magias, click. Pés, peitos, coxas. Click, click, click. Olhos sensuais, bocas sensuais, corpos sensuais. Danças, click, sons, click, sexo, click. Há uma mão que passa no corpo que olha para os olhos que espiam outras mãos passando em outros corpos que olham para outros olhos. Pele, pele, pele. Suor, perfume, magia. Esta é uma viagem fotográfica de Norma Guimarães pelos corpos e pelos pêlos de bailarinos, atrizes. Este é um documento fotográfico de um espetáculo onde os corpos encontraram as artes e, pelo vão da porta, encontraram a máquina fotográfica de Norma Guimarães.
Gilberto Di Pierro
(Giba Um)
Com: Inês Aguiar, Ricardo Viviani, Manuela Assunção, Flávio Cardoso, Vera Mancini, Fernando Wellington, Miriam Lins e Graça Bermam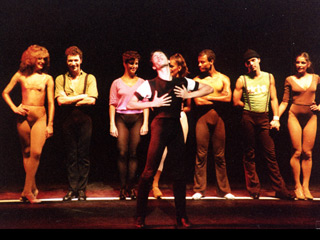 It was a singular sensation being touched by the line, as you can see in this picture. Ricardo Viviani playing Greg in 'A Chorus Line'. Some well known actors can seen in this picture. Can you name the people? 'ACL' in São Paulo * April 15th, 1983.