Alternatives:
Vimeo
OneDrive:
[Medium 60Mb .mp4]
[Small 7Mb .wmv]
Outside Germany:
YouTube
reviews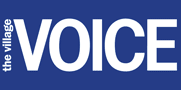 The Village Voice by Bruce Supree
Serious Talk – New York City … Darkly handsome, Viviani has the masculine power of the young Robert Mitchum, but he's hot, not cool. Joining Hartley for Serious Talk, he's slightly menacing, controlled, agressive — but unhurried. A '40s film noir, Mickey Spillane kind of guy — but he doesn't lay a hand on her. … Viviani's in formal pants, black suspenders, a sleeveless undershirt. He slowly raises his arms, folds them across his chest. He points his index finger, then with the other hand pushes softly in the opposite direction with measured force. Repeating gestures, speeding them up, adding more, he produces a steady flow of contradictory impulses, while playing off the waltz rhythms. He opens his hands with a kind of helpless strength, then draws them in to his chest and cringes. The accelerating repetition of impassioned gestures gradually builds as unbearable pressure of feeling in him.

The New York Times
by Jennifer Dunning
Blue Danube – New York City … Mr. Viviani, a relatively new choreographer, took simple themes and dealt with them with admirable simplicity … The quality of movement is most subtle and interesting in "Blue Danube," set to the Strauss waltz, its message is mystifying. Mr. Viviani and Cheryl Hartley were personable dancers.