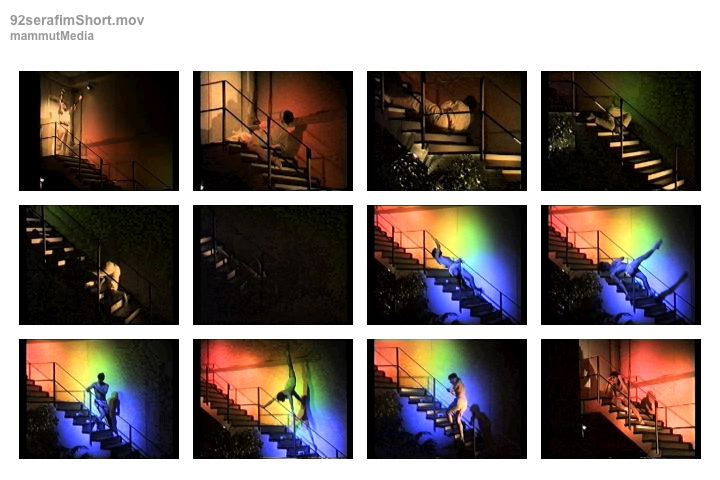 2012 Collision of Oswald de Andrade and Vilém Flusser in media-dance.
Introduction
In the past years Brazil has seen immense changes in its social and anthropological organization. Changes that were fore- but un-seen by Vilém Flusser. An acceleration and collision of Vilém Flusser's views with the current practice of Brazilian theater and dance is the object of this research. The project aims at catapulting Oswald de Andrade's modernistic writings 'Serafim Ponte Grande' one hundred years later into the post-historic subset and clashing it some of Flusser's concepts. Andrade discourses about a nomadic alter-ego - Serafim Ponte Grande in his excursions in the European early 20th century (1912). This work is materialized in a reworking of the dramaturgy of a Tanztheater piece with music by Villa-Lobos (Köln 1992) for the group of the dance company from Palácio das Artes, Belo Horionte, MG Brazil (
http://goo.gl/rsxBu
), de-materializing it as video-HD recording in Brazil and re-assembling it during a residency at the Vilém Flusser Archiv colliding with text and concepts of Brazil, nomadism, and kitsch by Flusser. The work would then put in the information networked-pool losing geography and temporality.
Manhãs de Minas - Oswald de Andrade

O teu cabelo é da cor das manhãs de Minas!O teu beijo é quente como o sol do Rio de Janeiro,Quando teus lábios reviram nos meus me envolvem do calor das águas de minha terra,O teu corpo é frio como o sepulcro do meu!Quando sais no foquestrotes aí por esses hotéis, na podridão das orquestras , sinto as tuas duas pontas espetarem o  meu coração enquanto a minha lança se revolta contra a tua virgindade,Minha mão em concha apanha a tua bundaQuente , viva, musculosa e buliçosa,Encosto a cabeca na tua, aí por esses foquestrotes, por esses Charlestões,Encosto a língua na tua, mole, babosa, salivosa.
... Um dies zu erfassen, ist es zwar einfach, aber zu billig, Etymologie zu Hilfe zu rufen. Es ist zwar rich­tig, daß der Sitzende be-sitzt, und der Fahrende er-fährt, oder daß der Sitzende in der Gewohnheit wohnt und der Fahrende Gefahr läuft. ... Vilém Flusser - Nomadische Überlegungen